The Service Value System (SVS) is the machine which turns opportunity and demand into value for the organization, customers and it's stakeholders. The service value system includes the following components, all interconnected, working together to achieve a desired output, creating value (think of all the gears in a watch all interconnected and working together).
Parts of the service value system (SVS)
7 Guiding principals : How decisions should be made.
Governance : How everything is directed to ensure we do what is planned.
Service value chain (SVC) : How the work will be processed.
Practices : How the work should be performed.
Continual improvement : How we improve.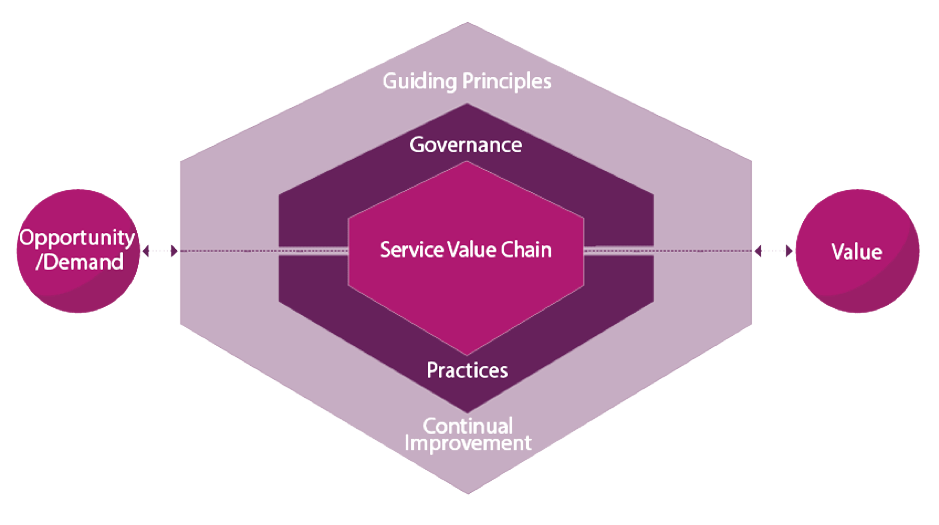 Removing siloed thinking
When organizations grow, they tend to drift into their own silos and lack the communication/transparency between each other.  The service value system has been designed to break down these barriers between departments/people to ensure everyone is working together to continually co-create value. When an organization has trouble communicating a shared vision it tends to be less effective and efficient.
[Real estate example] After speaking with members from different departments, it was clear that there were some great ideas which could have been presented if only we had clearer communication. To remedy this, we have started some weekly team building exercises to break down barriers between departments which has already started to bring some innovative ideas to the table which can co-create value for the organization.