Continual improvement is something which everyone should keep in mind at all times, from strategic to operational. In short – everyone should always be thinking about how services/processes/activities can be improved at all levels of the business.
Continual improvement should be supported at all levels:
Using the continual improvement model (ref below) which provides organizations with a structured approach to implementing improvements
The 'improve' activity of the service value chain. This embedded activity ensure improvement when optimizing value chains.
The continual improvement practice to support day-to-day improvement activities.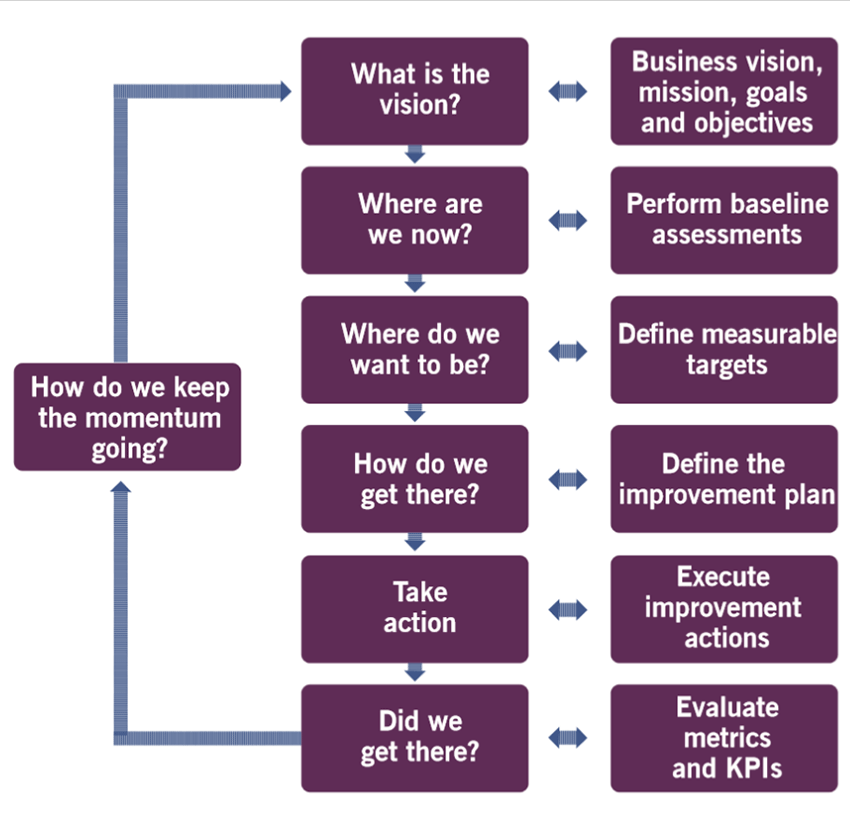 1. What is the vision?
Each improvement initiative should support the organization's goals and objectives. The first step of the continual improvement model is to define the vision of the initiative. This provides context for all subsequent decisions and links individual actions to the organization's vision for the future.
What is the business vision/mission?
What are the goals/objectives for this initiative?
Does it have stakeholder approval?
What is the expected value & has it been agreed?
Who would be involved in the improvement?
[Real estate example] One of our organizations visions is to create web based products where our knowledge of real estate is open and accessible for everyone. This goal/objective means our current and future clients can learn aspects of real estate on their own, feel more confident about picking us as a service provider, or a combination of both. To do this we want to create an open knowledge base with highly detailed guides to understanding real estate. The ultimate end objective will be better brand image and measurable, valuable interactions with our knowledge base (lead generation).
2. Where are we now?
The success of an improvement initiative depends on a clear and accurate understanding of the starting point and the impact of the initiative. An improvement can be thought of as a journey from Point A to Point B, and this step clearly defines what Point A looks like. A journey cannot be mapped out if the starting point is not known.
Do we have a baseline to measure against?
What information do we need to create a baseline?
What do we have in place which can be re-used?
What resources do we have to support this improvement?
[Real estate example] Currently we don't have any knowledge base and a very small web presence. We have some information in older blog posts which could be re-used in this new knowledge base for clients. We already have our website which can be leveraged by adding a new subsection for this knowledge base.
3. Where do we want to be?
Just as the previous step (Step 2) describes Point A on the improvement journey, Step 3 outlines what Point B, the target state for the next step of the journey, should look like. A journey cannot be mapped out if the destination is not clear.
Perform a 'gap analysis' to understand the gap between the start and end point.
What are the critical success factors (CSFs)?
What key performance indicators will be used (KPIs)?
Following SMART principal (specific, measurable, achievable, relevant, and timebound)
[Real estate example] By the end of this month, we would want to have a knowledge base platform online which current clients can access to give their initial feedback and to be potentially generating leads through this knowledge base (SEO/Organic lead generation).
4. How do we get there?
Can be a straightforward and direct route to completing a single simple improvement, or it may be more involved. The most effective approach to executing the improvement may not be clear, and it will sometimes be necessary to design experiments that will test which options have the most potential.
Define the improvement plan
[Real estate example] We will start by listing out all the topics and subtopics which will go into this knowledge base. Any information which can be re-used from our existing blogs will be reduced and put into an easier to understand format. The members of our team with the most in-depth real estate knowledge will be the primary content curators, and our marketing department will format, post and share the final information.
5. Take action
This could involve a traditional waterfall-style approach, but it could be more appropriate to follow an Agile approach by experimenting, iterating, changing directions, or even going back to previous steps.
Executing the improvement plan
Focus on measuring progress throughout the improvement
Ensure visibility by applying principals (Risk & Org change management; measuring & reporting, etc)
[Real estate example] Using a basic waterfall approach using the right resources (people & departments), the small scale project is scoped out and the information is generated and uploaded to the new section of our website.
6. Did we get there?
The most important step is to check if the improvement initiative achieved the desired result for a planned improvement initiative. If the desired result has not been achieved, additional actions to complete the work are selected and undertaken, commonly resulting in a new iteration.
Have the original objectives been achieved?
Are those objectives still relevant?
Did we hit our measurable targets (KPIs)?
[Real estate example] After only a few weeks, ~150 new articles have been published to the knowledge base. Our current clients have started to read through different sections and think this is a great resource which helps answer some of the most important questions in an easy to understand way. Some of the articles have already started to rank (SEO) and are bringing in organic leads.
7. How do we keep the momentum going? 
If the improvement has delivered the expected value, the focus of the initiative should shift to marketing these successes and reinforcing any new methods introduced. This is to ensure that the progress made will not be lost and to build support and momentum for the next improvements.
Ensure the improvement sticks (not going back to old behaviors)
What could be improved in the future?
[Real estate example] In our last team meeting we have had some great ideas for continual improvement – The customer service team have suggested we integrate the current knowledge base with our CRM system so they can quickly link current and potential clients to related articles. This suggested integration could be two-way, where any missing articles can be added in to improve the overall value of the product.
Continual improvement & the guiding principles
When thinking about continual improvement, the 7 guiding principles should be kept in mind at all times. Some principles are more relevant than others depending on the continual improvement step/stage. The main relations can be seen below.